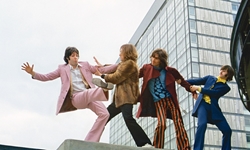 New York City gallery Soho Contemporary Art is welcoming back The Beatles, The Mad Day: Summer Of '68 Collection, by award-winning photographer Tom Murray. The much-acclaimed exhibition originally debuted in New York and Murray's full collection is again on public display from today, Thursday, 31 May, with a private VIP reception to celebrate its 50th year. The exhibit will then be open to the public starting on 1 June and it runs through to 16 June.
The photographs in the much-acclaimed collection date from 28 July 1968. On that day, British photographer Murray captured numerous images of The Fab Four. The shoot was done on the run (literally) all over London in order to escape the hordes of screaming Beatles fans that followed them everywhere.
Rushing from location to location inspired the name of the famous collection: The Mad Day: Summer of '68. These images would become the last publicity shoot of all four Beatles together- and represent the quintessential Beatles at the height of their psychedelic period and are considered the most important color photographs of the group. The Beatles officially disbanded in 1970.
Source: Tim Peacock/udiscovermusic.com