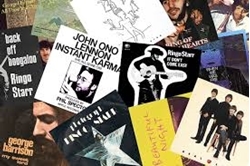 Ringo Starr's role as a glue guy in the Beatles was confirmed once they began solo careers. Long after the group split, his individual sessions drew far-flung former members back together once more.
Along the way, the affable drummer came to dominate the list of Top 25 Partial-Beatles Reunion Songs. Seven tracks come courtesy of Starr's solo projects; he's also a regular presence on tracks with George Harrison, John Lennon and Paul McCartney.
At least half the Beatles are present for many of these tracks, and in several instances three of the four ex-bandmates appear. The most famous are the so-called "Three-tles" reunion songs in the '90s, as the others came together to complete a pair of the late Lennon's songs.
Other notable partial reunions date from just after the group's 1970 breakup through modern-era collaborations as recent as the '10s. Several even include classic-era producer George Martin.
Source: ultimateclassicrock.com