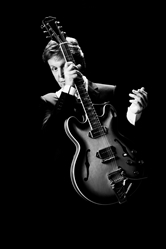 Previously unseen images of stars such as Amy Winehouse, Sir Paul McCartney and Annie Lennox have gone on show in a new exhibition.
Unseen Icons will feature a series of intimate portraits taken across a 25 year period by photographer and director Phil Griffin, who has created documentaries following stars such as Bon Jovi and Britney Spears.
The one month exhibition will be on display at Brownsword Hepworth Gallery in Chelsea, and aims to reveal the close bond between photographer and subject.
He said: "To me, a good photograph is never taken - but given. My job was to make myself available to capture these moments of stillness from each of my collaborators, so each portrait is a moment of pure truth and self-expression,"
Through his work as a creative director in the entertainment industry, Griffin was able to forge close friendships with his sitters, including the likes of Diana Ross and Prince Charles.
Source: Sian Bayley/standard.co.uk