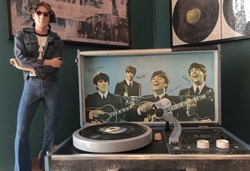 "Ladies and gentlemen, The Beatles."
With those five words from legendary talk show host Ed Sullivan, America was introduced to four young men from Liverpool, England, and pop culture hasn't been the same since.
Walton resident Steve Hoheimer was just a 12-year-old living in Fairmount at the time, but he said he knew there was just something special about John, Paul, George and Ringo.
"I have two older sisters that grew up watching American Bandstand, so from an early age, I was into music," he said. "When we saw them [The Beatles] on Ed Sullivan, it was really crazy because everybody was screaming on TV."
Shortly after the performance, Hoheimer went out and bought his first piece of Beatles memorabilia, a 45 vinyl album of "Love Me Do." His mother even bought him a Beatles record player to go along with it.
And it's been Beatlemania ever since, Hoheimer said laughing.
The album and record player are now part of an even bigger collection of Beatles memorabilia that Hoheimer has on display inside a bedroom of his house. With everything from dolls and figurines to piggy banks and LEGO yellow submarines, Hoheimer said the 50 plus year collection brings a smile to his face and a lot of happy memories.
Source: Kim Dunlap /kokomotribune.com