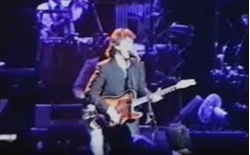 It's safe to say George Harrison wasn't big on touring. After the Beatles' last tour in 1966, he didn't hit the road again—as a headliner—until 1974. And, due to his nagging laryngitis and some strange song choices, that tour hasn't exactly gone down in history as a career highlight.
Harrison dodged the road until December 1991, when he and Eric Clapton toured Japan. They played only 12 shows, which was still more than enough for Harrison, who preferred being home, working on his garden, recording tunes. Stuff like that.
In April 1992, Harrison got some of the 1991 crew back together for a one-off show at London's Royal Albert Hall. While Clapton wasn't available this time around, Harrison recruited guitarist Mike Campbell—Tom Petty's right-hand man—plus Ringo Starr, Gary Moore, Joe Walsh and Harrison's 13-year-old son, Dhani.
Source: Guitar World