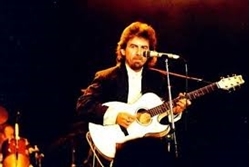 In the early nineties, there was one former member of The Beatles that was breaking out from the shadow of one of the most famous bands the world has ever seen. For a time, George Harrison was a bonafide pop star.
Following 1987s commercial and critical success Cloud Nine, mostly buoyed by his mega-watt pop hit 'I've Got My Mind Set On You', George Harrison was a household name again for the first time since the 1970s All Things Must Pass.
His first record had ascertained Harrison his legendary status on his solo work alone but, despite all his experience, Harrison was never a big fan of touring after his 1974 tour. The pain of that tour with Ravi Shankar had clearly landed quite heavily on Harrison and for many years, despite commercial success, the Quiet Beatle was, for the main part, remaining quiet.
After sharing the stage in Los Angeles in 1990, Harrison was seemingly dipping his toe into the touring water when he joined the legendary Eric Clapton for a joint tour of Japan, the next year. It seemed as though the Beatle was gearing up for a tour. Yet after Harrison and Clapton performed at 12 shows across the land of the rising sun the guitarist would again retreat to his life off the road.
Source: faroutmagazine.co.uk