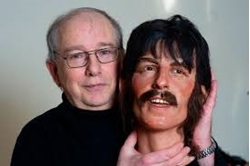 Help! The owner of a scary collection of waxwork heads is selling off the bonce of Beatles guitar legend George Harrison.
Colin Hill bought it for less than £200 five years ago and keeps it in a cabinet along with the heads of Britney Spears, Winston Churchill and a barely recognisable Princess Diana.
And the Fab Four fan hopes to make thousands if his sale plan can Come Together.
Retired hospital worker Colin, 59, waxes lyrical about his collection. He says: "At the auction they also had Ringo's head but I was outbid for that. I don't know what happened to Paul and John's heads.
"It would have been nice to get both of them. They were from Madame Tussauds and had been left in a storeroom.
Source: Phil Cardy/mirror.co.uk