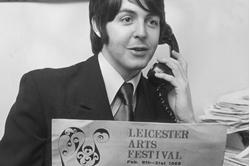 Ay-up – now, here's a familiar face!
Fifty years ago this week, Beatles singer Paul McCartney was pictured at the launch of the February 1968 Leicester Arts Festival – a real coup for the city.
More curious though is how he came to be involved.
An explanation was provided by reader Lesley Hale, neé Bushell, undergraduate student at the University of Leicester at the time, who provided an insight into the organisation of the festival that year.
"Leicester Arts Festival was an annual event of huge ambition, running for two weeks in February.
"It was a town-gown affair, overseen by a committee of arts sector people from the town, city council and all the colleges.
Source: leicestermercury.co.uk