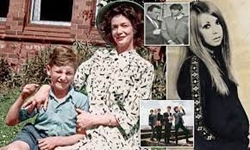 Every day throughout 1964, a postman called Eric Clague would deliver another bulging sack of fan letters to 20 Forthlin Road, Liverpool, where Paul McCartney had been brought up, and where his father still lived.
That year, The Beatles were the four most famous young men in the world. In the first week of April, all top five singles in the American charts were by The Beatles.
Who was Eric Clague? Six years before, he had been a junior constable in the Liverpool police force.
On July 15, 1958, while off-duty, he had been driving a standard Vanguard sedan along Menlove Avenue when a 44-year-old woman stepped into his path. He braked, but too late: his car hit the woman, hurling her into the air.
An ambulance arrived, but there was nothing to be done. Julia Lennon was dead.
At that time, Eric Clague was a learner driver who was not supposed to be driving alone. His case was brought to court. Though an onlooker claimed Clague had been speeding, he denied it. The jury chose to believe him, and returned a verdict of misadventure.
Source: Craig Brown/dailymail.co.uk