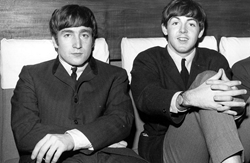 What is the greatest Paul McCartney song from his time in The Beatles? There are many to choose from, but one consensus pick has been "Yesterday." Chuck Berry admired it, more than 3,000 musicians have covered it, and Paul himself said it was probably his best work.
When the band released it in 1965, it quickly became the most listened-to song of the year — and the year after, and so on until well into the '70s. By the end of the 20th century, it had become the third most-played song on American radio. That's well beyond what we'd call a smash hit.
It was a landmark song for The Beatles as well. For the first time, Paul played and sang on the record without his bandmates. Behind him, fans heard a string quartet arranged by Paul and producer George Martin.
Source: cheatsheet.com