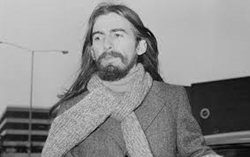 Most Beatles fans have heard stories about the band's problems by the time they were recording The White Album (1968). By then, John Lennon and Paul McCartney had gotten in each other's faces; Yoko Ono had become a fixture in the studio; and George Harrison had become disenchanted.
As for Ringo Starr, the Beatles' drummer was the first to walk out on the band, so it's clear the vibe wasn't working for him, either. After they finished The White Album, the Fab Four decided they would try to get back to basics with a live feel in their music and plans to perform again.
But that plan didn't work, either. George described those early Let It Be sessions (January '69) as more miserable than the White Album days. Though the mood improved when George invited Billy Preston to play on the record, nothing could keep The Beatles going at that point.
All was not lost, however. Right after the band announced its break up (in April '70), George spoke as if he saw the group making music together in the future. However, he said he couldn't keep dealing with the big problems he had while being a Beatle.
Source: cheatsheet.com