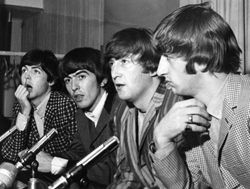 Popular music changed forever on March 22, 1963 when Please Please Me, the debut album from the Liverpool quartet called the Beatles was released. The 14 song session included the #1 title single, one of seven originals penned by the writing team of John Lennon and Paul McCartney
The British Invasion had begun. In a way, it never ended.
Sir Paul McCartney plays B.C. Place this week and the legacy of his former band — as well as his solo career — lives on well past most of his original musical peers. What it is that makes the man and his music matter more than most is the subject of countless books, papers and bottomless barroom banter. How four teenagers from the Northwest of England turned rock 'n' roll on its head is now contemporary cultural history played out in song.
Source: Allen McInnis / Montreal Gazette