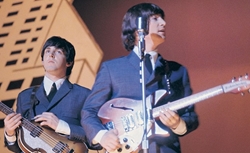 When The Beatles first started out, you knew exactly who led the band. Paul McCartney and John Lennon (already branded Lennon-McCartney) claimed songwriting credits and lead-vocal duties for 10 of the 12 songs appearing on the band's 1964 Capitol debut.
When both sang in unison on No. 1 tracks like "She Loves You" and "Love Me Do," you could barely separate the two. Later on, as Paul and John worked more on their own, you could tell the differences between their styles.
On "Hey Jude," which became The Beatles' all-time biggest hit, there was no question you were listening to a Paul tune. However, by the time the band had racked up its record 20 No. 1 hits, John had a large number to his name.
Of the eight chart-topping songs John sang lead on, his last chart-topper became his biggest hit with the Fab Four. In fact, only one Beatles tune charted for a longer period.
Source: cheatsheet.com