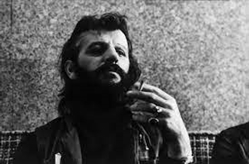 Ringo Starr is one of the best drummers in the world. However, when The Beatles disbanded in 1970, Ringo found himself in a bit of a pickle. He'd been The Beatles backbeat for years and rarely wrote the band's songs. After The Beatles ended, Ringo didn't have Lennon-McCartney to help him. Suddenly he had to do it all by himself or else face the prospect of becoming the least successful Beatle.
To make matters worse, he started his solo career off on a bad note. Ringo had a falling out with Paul McCartney, and his first solo album was a commercial flop. But Ringo was persistent. He was going to get by with a little help from his friends.
During an interview with Rolling Stone radio (per the Daily Mail) in 2020, Ringo admitted that he thought he "didn't have the talent" to finish the songs on his debut solo album Sentimental Journey. So, he often turned to fellow Beatle George Harrison to help him.
Source: cheatsheet.com