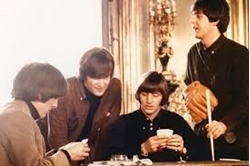 By 1967, the cat was out of the bag as far as The Beatles and drugs were concerned. Before that, fans might have heard the band sing about a "Day Tripper" or felt like they'd been on an acid trip listening to Revolver, but after the release of Sgt. Pepper's Paul McCartney admitted he'd taken LSD.
That led to all sorts of speculation about the band's music. On the subject of "Lucy in the Sky With Diamonds," many insisted the initials (i.e., LSD) spoke volumes about the song's content. (John Lennon said it was about a drawing his son Julian had made at school.)
Marijuana was a different story, however. During recording sessions, The Beatles were spotted puffing on a joint and having a laugh. And Paul later said he wrote "Got to Get You Into My Life" not about a woman, but about weed.
Fab Four pot use really took off in 1965. Late that year, they recorded the album George Harrison called the first when they were "fully fledged potheads." And the stories about them filming Help! earlier in the year definitely back up that assessment.
Source: cheatsheet.com