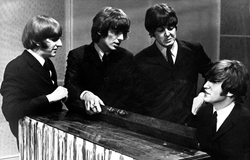 There's no denying that 1965's Rubber Soul was a breakthrough for The Beatles. With that record, the band had moved far beyond the "Love Me Do" and "From Me to You" tunes that defined their early records. In their place, you found tracks like "Girl" and "I'm Looking Through You."
Marijuana and the music of Bob Dylan influenced the Fab Four's songwriting heavily during this time. You could hear it clearly in John Lennon songs like "In My Life" and "Nowhere Man." The subject matter was richer, and John was ready to explore new themes.
Looking back on this period before he died, John seemed especially proud of "In My Life." With that track, he resolved to look into his own past for the first time and translate his experiences into song lyrics. The result was an unqualified success, but he needed a little help.
Source: cheatsheet.com