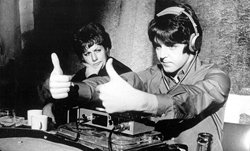 Even the biggest Beatles fans might get surprised by numbers the Fab Four put up over the years. Start with the group's 183 million record sales that dwarf that of every other recording artist. That number tops all the album sales of the mighty Led Zeppelin and The Rolling Stones combined.
Of course, The Beatles didn't just sell LP records; the band also had an uncanny knack for cranking out hit singles. Over the years, the band topped the charts with no fewer than 20 songs. Not even Elvis put up that many.
Most Beatles fans know John Lennon and Paul McCartney wrote the lion's share of those songs. However, George Harrison got on the board late in the group's career as well. In fact, despite the band's phenomenal early success, The Beatles scored their biggest hits just before the band split up in 1970.
Source: cheatsheet.com