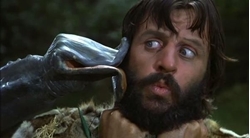 This is a bit of a tough question as all four of them were in the great Beatles movies "A Hard Day's Night," "Help!" and "Yellow Submarine," and their songs have been used to great effect in countless films. Each of them is an Oscar-winner, having nabbed the award for best original score (for a musical film) for the 1970 documentary "Let it Be."
But individually, each Beatle's film work has run the gamut in quality/quantity.
John Lennon
Before his death in 1980, Lennon had acted in very few films. His key role outside of the Beatles films was in 1967's "How I Won the War," which reunited Lennon with Richard Lester, director of "A Hard Day's Night." In the WWII comedy, Lennon plays an enlisted man who falls victim to the pratfalls of his hapless commander.
Though little came of his acting career, Lennon has 840 movie/TV soundtrack credits to his name, more than any other Beatle.
Source: Micah Mertes / World-Herald staff writer - Omaha.com