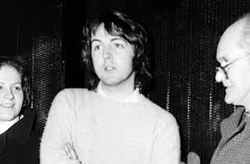 How versatile was Paul McCartney as a songwriter? Just check his late Beatles songs. After shooting for his "nastiest, sweatiest" work with 1968's "Helter Skelter," Paul was tinkling the ivories playing "The Long and Winding Road" while filming Let It Be in January '69.
But that wouldn't surprise anyone who knew what Paul listened to in the '60s. When he wrote "Good Day Sunshine" ('66), he wanted to match the energy The Lovin' Spoonful brought to "Daydream." On Sgt. Pepper's ('67), he wanted to top what The Beach Boys had achieved with Pet Sounds.
By "Helter Skelter," he was looking to outdo The Who, one of the heaviest early rock acts. With "The Long and Winding Road," which became the Fab Four's last No. 1 hit in America, Paul had one of the greatest soul singers in mind.
Source: cheatsheet.com