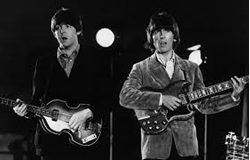 The Beatles were never particularly shy about revealing their influences, especially early on in their career. On the Fab Four's first record (Please Please Me), you couldn't help but notice the fascination with The Shirelles, the girl group who'd made "Boys" and "Baby It's You" famous.
On their second U.S. release, fans found the band saluting idol Chuck Berry with a cover of "Roll Over Beethoven" as the first track. Later, fans heard the Fab Four's take on several Motown hits as well as a cover of a Smokey Robinson track ("You Really Got a Hold on Me").
Kicking off the second side, listeners got a taste of the Beatles' live shows with a cover of "Long Tall Sally," a Little Richard song Paul McCartney loved to shout on the bandstand. Paul once said you had leave your body to pull off a Little Richard vocal.
Source: cheatsheet.com