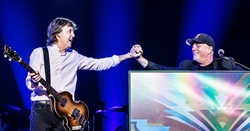 The 2019 edition of The New Orleans Jazz and Heritage Festival will be the 50th anniversary of the springtime tradition. Music lovers are already buzzing about the possibility of a super superstar headliner to mark the half-century mark.
We have no inside information at this time (though we do so hope producer Quint Davis shoots us a text just as soon as he has a contract in hand). But while we bide our time until the announcement of the lineup (usually near New Year's Day) there's no harm in speculating, right?
Who are you hoping for?
Beyonce and/or Jaz-Z? Pop's most powerful couple are scheduled to appear in the Mercedes-Benz Superdome on Sept. 13. Would a return to Gentilly seven months later be too soon? OH HEAVENS NO!
Paul McCartney? At 76, Beatle Paul would be only a touch older than many of this years' Acura Stage closers. But does he have the song catalog to handle a full 90 minutes?
Source: nola.com