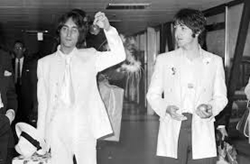 The Beatles have never been particularly shy about their influences. In fact, during their early years, they never even had to say it. The band's first album featured two tracks made famous by The Shirelles. And their second US release had covers of Chuck Berry and Little Richard songs.
Later, when the band only recorded original songs, you'd have to listen more closely to hear the influences. George Harrison said the band had Otis Redding in mind when he and Paul McCartney worked out the guitar part for "Drive My Car."
And Paul said he was thinking of the Lovin' Spoonful hit "Daydream" when he wrote "Good Day Sunshine." While the Fab Four was the biggest band on earth by the time they made the White Album (1968), they were still looking to one-up major bands on the scene.
Source: cheatsheet.com