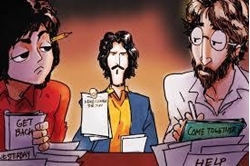 John Lennon was the dominant early creative force in the Beatles. But Paul McCartney quickly began to catch up as their career together unfolded. George Harrison made a late push into songwriting as well.
So, who wrote the most Beatles songs?
As you'll see, there are individual albums where Lennon and McCartney take center stage. Lennon, for instance, wrote or co-wrote an astonishing 10 songs for 1964's A Hard Days Night. On the other hand, McCartney is credited for the vast majority of 1967's Sgt. Pepper's Lonely Hearts Club Band.
On several occasions, things were in complete equilibrium: 1965's Help! and Rubber Soul, and 1966's Revolver. They basically split the songwriting difference on 1968's The Beatles, too. But there was clearly a sense of competition about things: Lennon would write "Day Tripper" and McCartney delivered "We Can Work It Out"; Lennon brought in "Strawberry Fields Forever," and McCartney countered with "Penny Lane."
Source: ultimateclassicrock.com