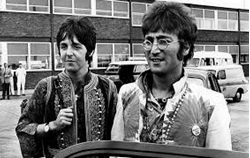 When it comes to the Beatles' landmark Sgt. Pepper's Lonely Hearts Club Band, most people think of 1967. After all, the album hit record stores in June of that year, and you could hear the sounds of "A Day in the Life" coming through open windows all summer long.
But work on the record began much earlier. Following the Beatles' final tour in the summer of '66, the band took a much-needed break and met up in the studio with plans to try something completely different.
For starters, it meant creating music they could only play in a studio (as opposed to a stage). And they'd spend as much time as it took to get it right. If that meant going for two weeks on a single song, that didn't faze them.
However, Beatles manager Brian Epstein wanted to keep the cash flowing as it had in previous years. When John Lennon and Paul McCartney produced masterpieces early in the Sgt. Pepper sessions, saving them for the album seemed pointless. So Epstein sent them out together as an epic single.
Source: cheatsheet.com