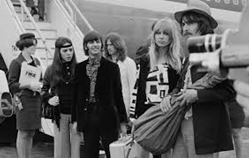 While The Beatles were laid-back about a lot of things, they kept their recording sessions off-limits to outsiders for most of the '60s. That's why the arrival of Yoko Ono came as such a shock to any band member not named John Lennon.
However, by 1968, the Fab Four had bigger problems than the occasional comment from Yoko. During the White Album sessions, Paul McCartney worked by himself so frequently that the others wondered if they were in a band together.
Meanwhile, Ringo got so fed up that summer he walked out on the group while recording "Back in the U.S.S.R." And, during all the turbulence, just about everyone was ignoring a brilliant song George Harrison had written for the record.
That track, "While My Guitar Gently Weeps," eventually got recorded with a guitar solo by Eric Clapton. But it was so small feat for George to convince a nervous Clapton to join him and the Beatles at Abbey Road studios.
Source: cheatsheet.com