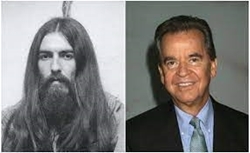 George Harrison was not a fan of American radio and television personality Dick Clark. In 1979, the American Bandstand host and "America's oldest teenager" produced a biographical film called Birth of The Beatles. Clark needed Beatles songs and footage to complete the project, and George didn't like it.
George didn't like people who wanted a piece of The Beatles for their own gain.
During a 1987 interview, J. Kordosh of Creem Magazine told George he'd seen Clark's documentary. George wasn't impressed. He said all Clark did was send letters to The Beatles about wanting clips for his own projects. He always wanted a piece of The Beatles, like everyone else. George said Clark was greedy.
Source: cheatsheet.com