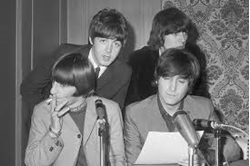 The Beatles' laid-back "Eight Days a Week" has become one of their signature singles: a widely covered No. 1 hit that even inspired the name of a band documentary. So it's surprising to learn that John Lennon, the song's co-writer and lead vocalist, hated it — describing it as "lousy" in a 1980 interview.
In the beginning, though, it was just another tune — the latest from a Lennon/Paul McCartney song factory that, by 1964, could churn out product with minimal effort. This time, the creative spark came from the titular phrase, which McCartney has most frequently attributed to a chauffeur.
"John had moved out of London, to the suburbs," McCartney reflected in the Beatles' 2000 Anthology book. "I usually drove myself there, but the chauffeur drove me out that day and I said, 'How've you been?' – 'Oh, working hard,' he said, 'working eight days a week.' I had never heard anyone use that expression, so when I arrived at John's house I said, 'Hey, this fella just said, 'eight days a week.' John said, 'Right — 'Oooh, I need your love, babe …' and we wrote it.
"We were always quick to write. We would write on the spot," McCartney added. "I would show up, looking for some sort of inspiration; I'd either get it there, with John, or I'd hear someone say something."
Source: ultimateclassicrock.com