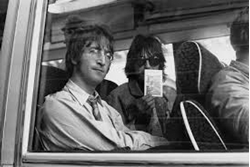 Looking back at the Beatles' darkest hour, it's easy to point to the White Album sessions (1968). After all, there was so much negative energy John Lennon and Paul McCartney almost fought in the studio. And that's not mentioning how Ringo quit the band for a few weeks that August.
Meanwhile, George Harrison had written some of his best work ("While My Guitar Gently Weeps," "Long, Long, Long") but still had trouble getting his band mates interested in his songs. Indeed, the White Album didn't come easy.
But The Beatles did finish their double album without breaking up. In the January '69 Let It Be sessions, you could argue band relations were just as bad while the results were significantly worse. (George called it "the low of all-time.") This time around, there was an actual fistfight in the studio.
That incident, combined with an argument with Paul, led directly to George walking out on the group. But John didn't seem worried about George's absence at all. He had suggestions for what song they should play and who might replace their departed lead guitarist.
Source: cheatsheet.com