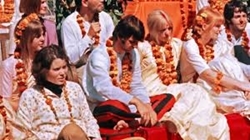 The Beatles' 1968 trip to India marked a clear dividing line for the group. When they arrived back in England, they would begin The White Album and begin disintegrating as a band. John Lennon would tell his bandmates he was quitting the following year.
But by early '68, the Beatles still had a lot left in the tank. First up was The White Album, which was the group's longest record by far. Though Paul McCartney worked on his own for several tracks and Ringo quit the band for weeks during the sessions, it stands as a masterpiece.
Most of the material for that record came from songs they wrote in India. During the weeks they were there studying with the Maharishi, John and Paul wrote several White Album tracks in between meditation sessions and hanging out with Donovan and the Beach Boys' Mike Love (among others).
Source: cheatsheet.com