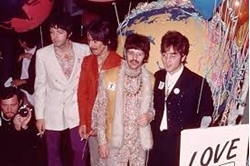 When Beatles manager Brian Epstein secured the Fab Four's spot on the 1967 Our World broadcast, he considered it a major coup for his group. "I have the most fantastic news to report," Epstein told the band before making his announcement. But none of The Beatles seemed to care.
At the time, the group was finishing up Sgt. Pepper's Lonely Hearts Club Band and couldn't be bothered. Though Our World eventually reached hundreds of millions via satellite, it appeared to be just another appearance to four guys who'd made it their mission to stop touring a year earlier.
Nonetheless, John Lennon volunteered to write a song for the broadcast, which would feature the band performing live in Abbey Road studios. And, as they'd done when recording the orchestra part for "A Day in the Life," The Beatles decided to make it a happening.
Source: cheatsheet.com