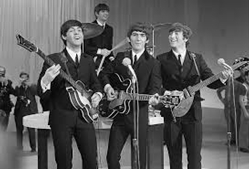 Ringo Starr is regarded as talentless by some fans of the Beatles. Others simply feel he didn't have as much talent as the other three members of the band. Many Beatles fans might be surprised to know that Ringo did not play the drums on the group's first hit, "Love Me Do." Here's why.
Despite what others have said about Ringo, the other Beatles were in awe of his talent. According to The Spectator, Paul McCartney has positive memories of the first time he saw Ringo drumming.
"This was, like, a grown-up musician. I remember the moment, standing there and looking at John and then looking at George, and the look on our faces was like …what is this?" he said. "And that was the moment, that was the beginning, really, of the Beatles."
Although Paul said the Beatles weren't really the Beatles until Ringo joined the band, the group's producer, George Martin, felt differently. He didn't like the sound Ringo brought the band's recordings.
Source: cheatsheet.com