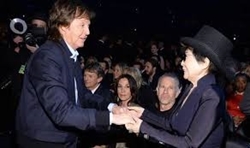 Of the many remarkable late releases by The Beatles, the band's "Get Back" single stands out for many reasons. For starters, it wasn't just a song; Get Back was also the working title for the band's new album. After years of studio experimentation, the band wanted a live feel for its next record.
That meant getting back to playing as a band. Unfortunately, it didn't go as planned. In the second week of January (1969), George Harrison quit the group after more bickering. That's how John Lennon took over on lead guitar on "Get Back."
The departure of Harrison led to another new sound on a Beatles record: the electric piano of Billy Preston. When "Get Back" was released in April, it was the first Fab Four record with a credited guest soloist (The Beatles With Billy Preston). Not even Eric Clapton had gotten that honor.
Source: cheatsheet.com