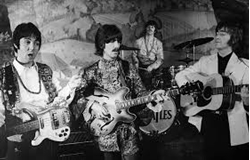 If there's one thing Beatles fans have always wanted, it's "more Beatles." Otherwise, it's hard to imagine the endless reissues being successful. In the last few months (i.e., 50 years later) alone, we've seen an Abbey Road reissue and heard of a pricey vinyl singles collection coming in November.
So when the band returned from India in 1968 with tons of new songs, it didn't seem like a negative. "Paul [McCartney] must have done about a dozen," John Lennon said then. "George [Harrison] says he's got six. I wrote 15. And look what meditation has done for Ringo — after all this time he wrote his first song."
But the band couldn't come close to cramming all that music on one record. For a group that usually released tightly produced, single-disc albums, something would have to give. (Indeed, many things gave during the wild sessions that produced the White Album.)
Producer George Martin, often considered the fifth Beatle, was among those who thought a double album was a bad idea. And he told the band about it at the time.
Source: cheatsheet.com