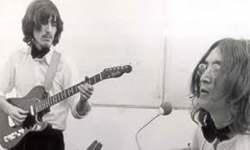 ven if you loved Sgt. Pepper's Lonely Hearts Club Band (1967), you had to admit The Beatles went heavy on the studio polish. On side 1, "She's Leaving Home" told the story of its runaway rich girl with the help of a 10-piece string section that included a harp player. It was a long way from Hamburg.
There was more of the same on "Being for the Benefit of Mr. Kite!," the John Lennon track that featured tape loops, harmonium, organ parts, and other sounds not made by a Beatle. In brief, producer George Martin's touch was easily detectable in the making of Sgt. Pepper.
When the sprawling White Album (1968) arrived late the following year, fans got a very different look from the and. On "Blackbird," basically all you heard was Paul McCartney and an acoustic guitar. And you got the same man-and-a-guitar approach (with Lennon this time) on "Julia."
More acoustic guitar came on "Rocky Raccoon," "Mother Nature's Son," "Dear Prudence," and "The Continuing Story of Bungalow Bill," among other tracks. It was a defining feature of The White Album, and it was no accident.
Source: cheatsheet.com