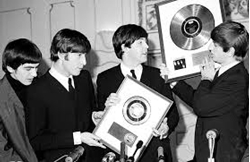 It's been over 55 years since The Beatles first came crashing into America and nearly half-a-century since the band split up. Yet in all that time, no one has come close to topping or even matching the band's success.
Sure, you'll hear about the occasional Beatles milestone that today's recording artist might surpass. When Drake logged more top-10 Billboard hits than the Fab Four, that generated headlines for a few days. However, Drake hasn't even reached double digits when it comes to No. 1 hits.
After all, if you're talking about the big milestones in the music business, you have to start with chart-toppers. On that front, The Beatles continue to rule the industry all-time with 20 No. 1 singles (on the Billboard Hot 100) and 19 No. 1 albums (on the Billboard 200).
Looking at the field, there's one contender who has a shot at the group's Hot 100 milestone but little chance of anyone passing the Fab Four for the most No. 1 albums.
Source: cheatsheet.com