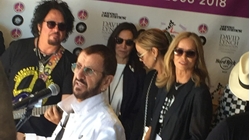 Ringo Starr, accompanied by, from left, guitarist Steve Lukather, Olivia Harrison (George Harrison's widow), Marjorie Bach and Starr's wife, Barbara Bach, attend Saturday's 10th Peace and Love birthday celebration in Nice, France, on Starr's 78th birthday. (Randy Lewis / Los Angeles Times)
Ten years ago when Ringo Starr turned 68, the Beatles drummer recalled someone asking what he wanted for his birthday.
"I couldn't think of anything, and I don't know why I said it, but it just came out: I said I would like for everyone in the world to say, 'Peace and love,' at noon," the Beatles drummer said Saturday at the 10th anniversary of a tradition born that day at a Hard Rock Café in Chicago.
This year, formal "Peace and Love" celebrations are being held on Starr's 78th birthday in 26 countries, precisely at noon in each time zone, an expansion of that original spontaneous remark he considers the most gratifying aspect of his long-held desire to spread goodwill through music and philanthropy.
Source: Randy Lewis/latimes.com