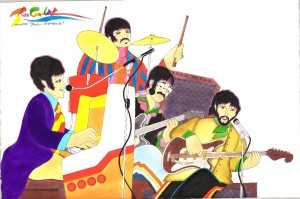 Animator Ron Campbell, best known for directing "The Beatles" cartoon series and for working on "The Yellow Submarine" movie, will be appearing at the 102.9 WMGK Classic Rock Art Show at the Neshaminy Mall.
Ron Campbell's back is aching. For two weeks, he's been painting a 7-foot-long watercolor commissioned by the Beatles-inspired Hard Days Night Hotel in Liverpool, England.
"It's killing me," he says in a telephone conversation from his home north of Phoenix. "My back is going out leaning over it all this time."
Not that Campbell is complaining. Five years after retiring from a 50-year career as a TV and film animator, his paintings are still in demand at art shows around the country.
Source: philly Burbs.com
Photo Crdeit: animator Ron Campbell