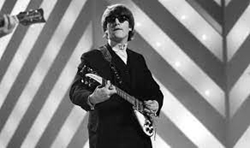 With an iconic guitar, John Lennon altered The Beatles' sound.
JOHN LENNON wrote some of the most iconic songs of all time for The Beatles, but he couldn't have done it without one of the trusty guitars he discovered and cherished in the 1960s.
In the late 1950s and early 1960s, the Beatles introduced rock music to generations of teenagers and young adults.
The band spent three years in a residency slot in Hamburg before becoming a worldwide phenomenon.
In 1960, the band traveled to Germany, where John Lennon discovered a guitar that would change his life.
Most young musicians wanted to play the guitars used by American superstars like Buddy Holly and Chuck Berry at the time, but it was nearly impossible for English musicians to do so.
Source: en.brinkwire.com