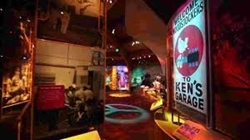 Darlene Fedun, and Wade Lawrence of the Bethel Woods Center for the Arts weigh in on why Woodstock is relevant nearly fifty years later. Patrick Oehler, Poughkeepsie Journal
Tickets to celebrate the 50th anniversary of the Woodstock with a former Beatle at the original festival site will be available this week.
Ringo Starr and his All-Starr band will perform at the Bethel Woods Center for the Arts on Aug.16, with tickets going on sale at 10 a.m. Friday. A presale for Bethel Woods members begins 10 a.m. Wednesday.
Bethel Woods in Sullivan County sites on the site of the original Woodstock Music and Art Fair, which was held on Aug. 15-18, 1969.
"I always love playing Bethel Woods," Starr said in a release from Bethel Woods, and how great to do it this year on the anniversary of Woodstock.
"I wasn't there at the first one, but I've always promoted what it stood for — Peace, and Love and Music," he said.
Source: Ryan Santistevan, Poughkeepsie Journal