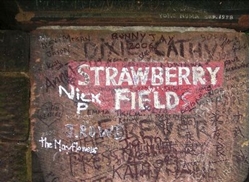 The go-ahead was given Tuesday to a project that will open the children's home made famous by a Beatles song so that fans can visit for the first time.
Thousands of Beatles devotees from across the world make the pilgrimage every year to Strawberry Field in Liverpool, featured in the John Lennon ballad, Strawberry Fields Forever.
The social charity and owner of the children's home, Salvation Army, plans to create a gift shop, a Beatles exhibition area and a training center for young adults with learning difficulties.
Liverpool City Council's planning committee approved the 2.6-million-U.S.-dollar plan on Tuesday.
Planning officers said in their report: "The profile and wider significance of the site is raised by its connection to the Beatles and the 1967 song 'Strawberry Fields Forever' which was inspired by John Lennon's childhood memories."
"The site, Strawberry Field, and specifically the gates at the entrance to the site, are widely recognized as an important cultural asset."