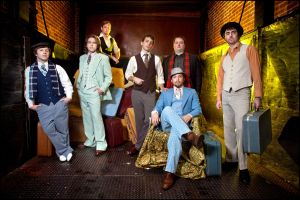 EASTON — Do you have the feeling that you want to be at the beach this weekend but will end up relaxing in Easton instead? Ever wonder what Beatlemania might have sounded like with Bob Marley as the fifth Beatle? You'll get an idea when Yellow Dubmarine, the tribute band that interprets Fab Four classic hits with a Jamaican irie vibe performs at 8 p.m.
Saturday, May 24, at the Avalon Theatre. "We've had lots of great Beatles tributes play here, but Yellow Dub is definitely the most unique and the most fun so far," said Suzy Moore, Avalon house manager. "They'll play all the Beatles' No. 1 hits with a bouncy reggae groove and brassy, ska-like horns. Their performances are so high-energy, it's hard for the audience to remain in their seats, so the Avalon's dance floor will be open. ... It's got a great summertime beach vibe to it." Yellow Dubmarine got the attention of reggae and the Beatles fans in 2011 while touring to promote its first album, "Abbey Dub," a dubbed-out re-interpretation of the Beatles' album "Abbey Road." This time around, the group will perform the Beatles' hits from 1962 through 1970 layered in deep reggae rhythms.
Read more on this story.......
Source: The Star Democrat, MD