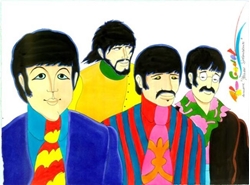 James Corden's recent, instant classic "Carpool Karaoke" with Paul McCartney started with a phone call plea: "Can you please, please help me?"
It's not the first time the key question from "Help!" turned up as a Beatles punchline. In the 1968 animated film "Yellow Submarine," Old Fred warbled those lyrics when seeking Fab Four assistance in saving Pepperland from the Blue Meanies.
The answer then and a half-century later remains the same: yeah, yeah, yeah!
A restored version of "Yellow Submarine" resurfaced this week for a golden anniversary rerelease. The theatrical return bodes to take the Corden sing-along experience from the car to the moviehouse.
Travis Pastrana Lands 3 of Evel Knievel's Death-Defying Jumps
Source: Jere Hester