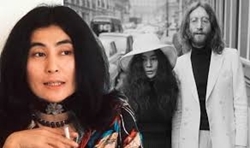 Yoko Ono and John Lennon's love story is hugely famous, but not always for the right reasons. When The Beatles broke up, Yoko was often blamed for their split, as she had become involved with John and the band as a whole. Before John's death, they continued to work together as a couple, and had a son together, Sean Ono.
Yoko Ono has spoken about how John Lennon was certain they would have a child together.
He had previously been married to Cynthia, whom he met while he was studying at Liverpool College of Art, with whom he had a son, Julian.
Despite this, he was definite he wanted a child with Yoko and even retired from the music world in order to take time out to raise Sean, who was born on October 9, 1975.
Speaking in the Citizen of Humanity magazine, Yoko said: "It's a funny thing. John was so adamant about having a child with me.
Source: Jenny Desborough/express.co.uk