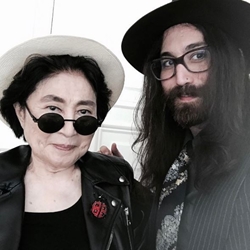 Yoko Ono, widow of slain Beatle John Lennon, and their son, Sean Lennon, were VIP guests at a new exhibition which opened in Liverpool Friday.
The exhibition at the Museum of Liverpool is the first in the world to tell the story of Lennon and Ono in their own words.
Ono, who is 85, was loudly applauded as she, aided by her son Sean Lennon and using a walking stick, told of her affection for Liverpool, birthplace of the former member of the Beatles.
The groundbreaking exhibition, Double Fantasy -- John & Yoko, runs until April 22, 2019 and is expected to attract visitors from across the world.
It celebrates the meeting of two of the world's most creative artists and reveals how they expressed their deep and powerful love for one another through their art, music, film and ongoing "Imagine Peace" campaign.
The exhibition has opened just a day before in the 50th anniversary of the couple's first night together (May 19, 1968), when they worked through the night and produced their first album, Unfinished Music No.1: Two Virgins.
Source: xinhuanet.com