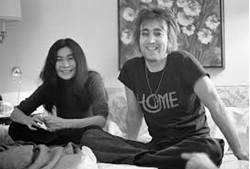 John Lennon's official Instagram page has revealed an unseen photo of him when he got a special birthday gift from Yoko Ono in 1980. The photo was taken by Bob Gruen.
Here's the caption of photo:
"YOU SAY IT'S YOUR BIRTHDAY…, 1980
John proudly showing off the birthday presents he had just received from his wife Yoko – An 18K yellow-gold Patek Philippe Moon Phase 2499 wristwatch, a hand-knitted tie and an American flag tie-pin.
The Hit Factory NYC, 9 October 1980″
See the photo below.
Back on February 19, John Lennon's sister Julia Baird has shared her thoughts on biggest misconception about Yoko Ono
Sputnik News asked:
"In your opinion is it unfair to blame the breakup of the Beatles on Yoko Ono?"
Source: Feyyaz Ustaer/metalheadzone.com