A boy looks at the book "The Beatles on the Road" in Mexico City, where fans of the legendary band can view all kinds of memorabilia at the 20th Beatles Festival. EFE/File
Mexico City, Dec 22 (EFE).- The Beatles never had a concert in Mexico, but "Beatlemania" cast a spell on the country that lives on at the 2014 Beatles Festival.
Fans of the "Fab Four" from Liverpool will be able to enjoy concerts, movies, conferences and an exhibition at the Futurama Cultural Center in Mexico City until next Sunday.
The 20th edition of the festival features special guest Freda Kelly, who was The Beatles' secretary and will attend the daily screenings of "Good ol' Freda," a 2013 documentary about her work with the band.
Kelly will hold Q&A sessions with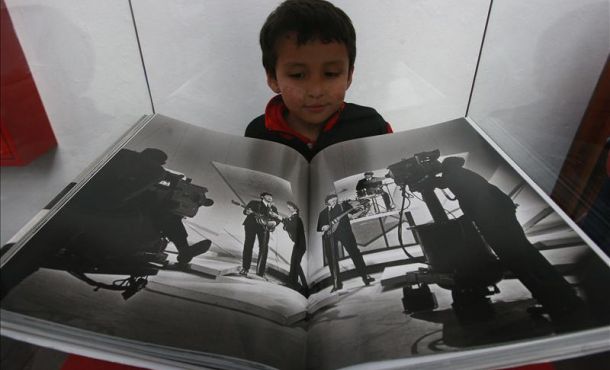 the audience.
"The best part is to be with her, to talk with her and share her feelings as a Beatles fan that shine in her eyes," Ricardo Calderon, president of the details
Singer Joe Cocker has died aged 70 after losing his battle with lung cancer.
His agent Barrie Marshall confirmed the news and said, "It is with the heaviest hearts we heard that our beloved Joe Cocker passed away last night."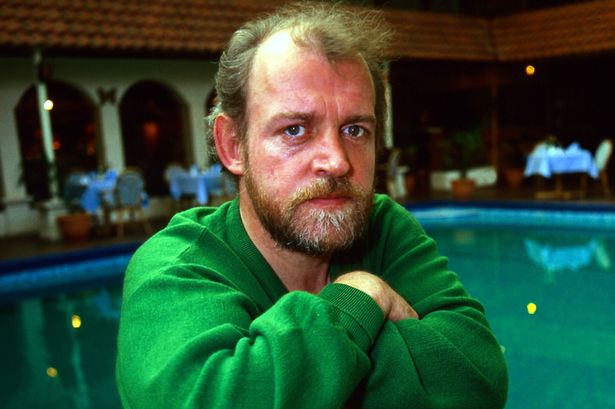 "He was without doubt the greatest rock/soul voice ever to come o
ut of Britain - and remained the same man throughout his life."
"We loved him and it will be impossible to fill the space he leaves in our hearts."
The Sheffield-born star reached number one back in 1968 when he covered The Beatles' "With a Little Help from My Friends".
The singer then shot to fame as a blues and rock singer in 1964 before he covered the Fab Four's hit single.
In a statement to the ECHOs sister paper the Mirror, Paul McCartney said, " "It's really sad to hear about Joe's passing. He was a lovely northern lad who I loved a lot and like many people I loved his singing.
"I was especially pleased when he decided to cover With A Little Help From M details
Prague's colorful wall dedicated to the memory of John Lennon has been painted over, leaving just a single message: "Wall is over!"

The wall, located at the heart of the Czech capital in the picturesque Little Quarter neighborhood, began to be painted with Lennon's images and related graffiti after the Beatle's assassination in 1980.

Under the communist regime, it became a symbol of freedom and opposition to communism and young people used to meet there to light candles and lay flowers.

After the 1989 anti-communist Velvet Revolution, it turned into a tourist attraction.

Recently, messages in support of democracy protests in Hong Kong appeared on the wall, while another Lennon wall sprang up in Hong Kong itself.

A group of art students claimed responsibility for painting the wall white on Monday and leaving the message, an apparent play on the words of the Lennon hit "Happy Xmas (War is Over)."

The details
Marissa Mulder puts her spin on a Beatles classic!
Rising cabaret star and BroadwayWorld Cabaret Awards Performer Of The Year, Marissa Mulder persuasively performs The Beatles standout "In My Life" in a new clip now available to hear.
"There are places I remember / All my life," Mulder captivatingly sings in the new clip captured at an exclusive live concert.
The clip was recorded live earlier this year at vaunted NYC jazz and cabaret venue the Metropolitan Room, where Mulder has presented multiple shows including TOM... IN HIS WORDS and more.
Marissa Mulder grew up in Syracuse, NY. She moved to New York City in 2007 and has gone on to become one of the most successful young cabaret artists on the NY scene. In 2011, she beat out 60 other singers to win the MetroStar Challenge at the Metropolitan Room, an American Idol type contest for up and coming cab details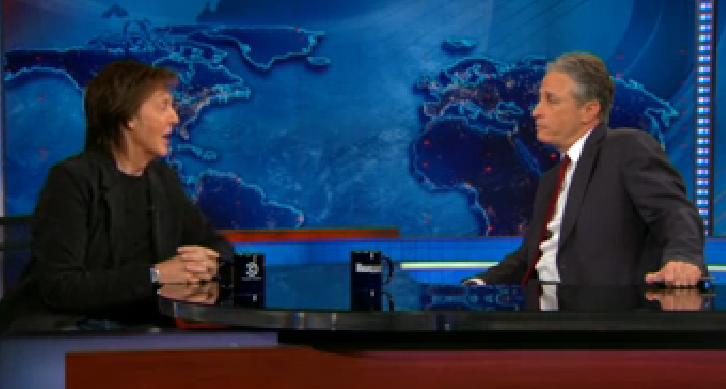 Paul and Jon got together this week to talk. Jon as in Jon Stewart of the Daily Show.
The legendary Paul McCartney stopped by the Daily Show with Jon Stewart on December 16th to talk about the decent (if super cheesy,) song he wrote for the new video game, Destiny. The pair talked about "Hope For the Future," and why it made sense for the former Beatle to write a song for the game, given the blockbuster nature of the industry today.
They also discussed topics like when Paul knew that music would be his future, grandchildren, and playing video games. Paul said that he does not play video games but when he tries he gets killed in only a few seconds.
McCartney, said he was a terrible gamer, because as he explained to the host, "they're shooting at me, Jon!" Stewart knew the feeling well, noting that it's really all about trying to make your kids and grandkids think you're cool. His kids, for instance, wish their dad could do a show more like Ellen.
Jon Stewart's kid details
As a special promotion for the Christmas holidays, the Beatles official website is conducting a daily giveaway now through Dec. 25. During "The 12 Days of a Beatles' Christmas," which began Dec. 13, the website is giving away bags of Beatles goodies "straight from Apple Corps HQ" each day.The website says the prizes include records from the mono vinyl box set and more. Just clear the snow from the Advent calendar window each day to enter. One lucky winner will be selected daily. Winning names will be published on the website.
Julian Lennon announced the release of two new charity singles he's involved with on Dec. 15: "Sleep for England" with Stephen Emmer and "All Together Now" by the Peace Collective, which also features Leo Sayer, Englebert Humperdinck, David Gray, Suzi Quatro, Clean Bandit, Paul Potts, Dionne Bromfield and others. "All Together Now" is not the Beatles' single but a new recordi details
A BONA fide jazz legend who formed a close friendship with The Beatles and has had his music played at Anfield is bringing an evening of world class jazz to Crawley.
The Big Chris Barber Band, described as Europe's finest traditional jazz and blues band, are coming to The Hawth in January.
The band turned professional in 1953 and played the world famous Cavern Club in Liverpool, which will forever be associated with The Beatles, soon after it opened in 1957.
Before Beatlemania gripped the world The Big Chris Barber Band were headlining concerts in Liverpool and meeting the famous four for drinks afterwards.
Band leader Chris Barber said:
"The Cavern started as a popular jazz club and we were performing there and at the top of other concerts.
"The Beatles were an interval band in bars at this time that we would go to after our shows.
"Both being involved in music I would buy them details
Great recognition on myriads of deeds, ideas, concept or a work of art that is posted online surely have a lot to learn from how the greatest rock band of all time, The Beatles, managed to spur undying support from millions of fans around the world with their 292 shows in a span of two years; where marketing strategies mainly depends on live performances.
Advancement in several technologies in this generation makes content marketing of products and services much easier and faster. Yet, not all does leave a lasting impression to every person, which most generational brands were able to grasp for some time. People might be able to upload and share their video on various Social Media, however, the fact that it was posted online the question still remains if it is worthy of everyone's time.
Making a video content that is highly sharable would probably lift any business ventures, leading new prospects back to the site and increasing conversion. It was like winning a virtual lottery where the prizes are the people who got 'infected' by the vi details
On December 15, 1969, John Lennon and Yoko Ono launched their global WAR IS OVER! campaign, protesting the Vietnam War.
On that day, they performed with the Plastic Ono Band at UNICEF's "Peace for Christmas" concert in London.
Apparently, UNICEF arranged the performance without telling the performers. John and Yoko were surprised to hear the show announced in November, but they agreed to it because UNICEF's mission was in line with their own peace campaign.
Other acts included the Young Rascals, Desmond Dekker and the Aces, Blue Mink and Black Velvet, and Emperor Rosko, but the highlight was the Plastic Ono Band – Eric Clapton, Klaus Voormann, Alan White, Billy Preston, and of course, John and Yoko – and their special guests, Keith Moon, Bobby Keyes, Jim Gordon, and George Harrison.
This marked the first time that Lennon and Harrison performed together in a scheduled concert since The Beatles' last show in 1966.
And even that wasn't planned. The Plastic Ono details
Ringo Starr first learned he was receiving the Rock and Roll Hall of Fame's Award for Musical Excellence when Paul McCartney called him up about two weeks ago. "He said, 'Would you accept the award?'" Starr says. "I said, 'Sure, man.' He said he'd been talking to Dave Grohl and other people and they were stunned that I wasn't in the Rock and Roll Hall of Fame, and he needed something to do that night and he's going to give me the award." Rolling Stone spoke to the affable drummer about his reaction and why he'll still be drumming.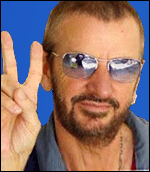 Congratulations on the big news.
Yeah, the big news! My goodness! I'm so excited.
What was your first reaction?
I think it's good. I didn't know that George and John were in it. I'm not keeping up with it all the time. We'll have a very nice evening and it'll be my pleasure to receive the award.
So this isn't something you thought about much?
No. I didn't think about it much or expect it. This year has been quite bu details